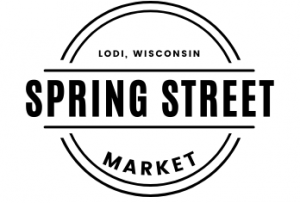 The Lodi & Lake Wisconsin Chamber of Commerce is proud to again sponsor the 2023 Spring Street Market! This open-air event will take place on Saturday mornings from May 27th  - October 7th 2023 – 20 total market dates! The market will take place from 7 a.m. – 11:00 a.m. each day on the North end of Spring Street in downtown Lodi Wisconsin. This event will be a celebration of all things local – fresh produce, baked goods, meats & seafoods, flowers, cheese, eggs, syrup, herbs, jams & jellies, honey, handcrafted goods, food trucks, sweets & treats. The goal is to focus on local makers, growers and producers while creating a unique shopping experience for our community. We look forward to supporting the event through open communication, a dedicated marketing plan and a strong desire to make this a smashing success for our vendors and customers alike.
We have learned so much in the first year of this event for our community and will use the feedback and experience to keep pushing toward the market we have in mind! A place to find family activities, to come together as a community, to learn more about local businesses and what they have to offer, an environment that fosters small business growth and expansion and above all a tradition our community loves! Come one come all...this will be an exciting year for the Spring Street Market!
If you would like to be a vendor for this year's exciting market, you can find the vendor application HERE.
Check out the new list of weekly happenings at the market! This list may change as we add new things and welcome new partnerships too! Be sure to follow the Spring Street Market group on Facebook for lots of updates and announcements throughout the season!