It's that time of year again and we are working hard to bring you so many great things for this year's Brew-B-Que? Never been? Here are some detail's to help you plan the day!
Join us on Saturday September 17, 2022 for Lodi's largest block party of the year! So big, we shut down Main Street to host the festivities!
This event begins at 10am and goes until 6pm.
It is free to attend, but Rib tasting and voting requires a VIP ticket.
We invite 18 cookers to come to the ultimate rib smoking standoff.
The cooking starts bright and early, right on Main Street.
As the day breaks, the real fun begins...tasting!
Want to try some of these amazing ribs, and judge for yourself?
Purchase a VIP ticket that entitles you to sample 9 entries. Tickets go live online Monday August 15th at 8 am.
Your VIP ticket is the only way to sample the competition ribs and these tickets are limited to 100! Included with your VIP ticket you may cast your vote for People's Choice Award, two free drink tickets and voting tickets for salsa, chili, and homebrew as well! A full day pass to some of the best food and drinks around!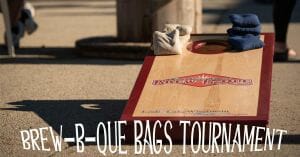 Brew~B~Que Bags Tournament
Competitive Bracket Rules
$20 per person - please bring cash day of event
16 team Double elimination .
Best out of 1 game in winners bracket.
Best out of 1 game in losers bracket.
Rally scoring.
No bust - Can go over 21.
Before each match begins, flip a coin to see which side of the board each player will throw from.
5 minute grace period rule: if you wander off to taste the ribs or brews and do not come back to play after 5 minutes – you lose. So stock up before we start!
How to register:
Create an account.
Click on Find a Tournament
Thank you to our Sponsors!
We are excited to share those businesses who support this event with you soon!